Handmade Leather Bracelets
All bracelets are handmade in my studio
I use premium quality leathers from France, Spain or Italy. No chemicals are used in the preparation or dying of the leather.
Metal components and clasps are hypoallergenic and nickel free.
The leather bracelets are made to order but will be sent out the day following the order (except Friday and Saturday orders which will be sent the following Monday)
Bracelets Made to Mesure
All bracelets are made to measure. Measure your wrist SNUG WITHOUT SLACK and I will make the bracelet with slack in it so that it will comfortably fit your wrist.
If you wish to give a bracelet as a present and don't know the size of the wrist that will wear it, simply choose one of the proposed sizes (XS,S, M, L, XL, XXL). If the size you chose was wrong you will be able to exchange or return the item
With a tape measure : Measure your wrist SNUG WITHOUT SLACK, to determine your size wrist in inches or centimeters (see photo below). This measurement allows me to create a bracelet with slack in it, so that it comfortably fits your wrist.
Don't have a measuring tape ? Use a piece of string or a ribbon to measure your wrist SNUG WITHOUT SLACK and lay the string back out on a ruler to get your measurement in inches or centimeters.
On the photo below the wrist size is 16cm, size M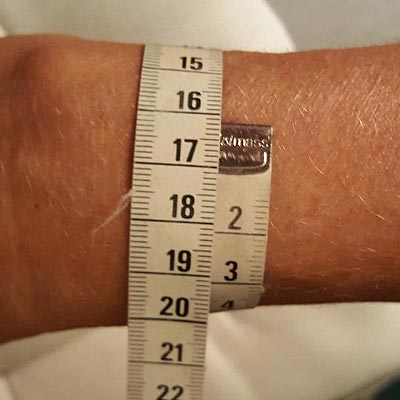 Je viens de recevoir mon bracelet cuir tressé simple marron et j'en suis vraiment ravi la taille va super bien. Très beau travail. Bonne continuation.
envoi rapide, je viens de recevoir le bracelet, la qualité du cuir est top, grâce aux infos de mesure il correspond tout à fait à mon petit poignet, il est vraiment beau, merci beaucoup.
Juste pour vous dire que je suis très satisfaite de votre travail. Tailles bien expliquées sur votre site, qualité des produits et efficacité d'expédition ! Sans compter l'emballage cadeau. Tout y est... Félicitations et continuez ainsi.
Bonjour, j'ai reçu mon magnifique bracelet très rapidement. Très élégant et adapté à mon petit poignet. Je suis ravie d'avoir découvert vos articles d'une grande qualité. Merci
Merci infiniment pour votre disponibilité et votre compréhension c'est une denrée rare ... Je suis ravie et soulagée que mon présent ne soit plus un échec ... (par ma faute )... Je vous souhaite une bonne continuation ... Merci encore.